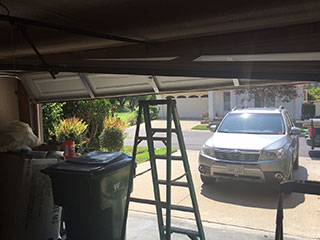 Looking for the best value for all garage-door related services and products? We are your team for the job! We offer a wide range of services, products and solutions for our customers, and make sure to get any problem fixed every time!
Spring Repairs & Replacements
Springs in your garage are quite similar to tires on your car. There are only so many cycles they can go through before they eventually wear out and snap. If the metal on your springs became weak and brittle, or one of them snapped under constant strain, call us to your help to replace the set of springs with high-grade types that will keep lifting and closing your door for many years to come.
Door Replacement Services
Tired of the way your old garage door looks? Concerned it might be bringing your curb appeal and energy efficiency down? Not to worry. Our professional team will go through multiple options from the country's top manufacturers and together, we'll decide what model we'll replace your existing unit with. Maybe you're looking for the trendy ''carriage house'' style that adds that rustic charm to your home or are interested in a steel door that will keep your house better protected and offers that modern look? Either way, we've got the model for your needs and the necessary tools and expertise to install it properly in a single visit.
High-Quality Products, Brands & Parts
Regardless of the repair you need, we stock a wide range of spare parts and accessories in our truck so that we can service your system in a single visit. From springs and cables, to electric openers and panels, our extensive inventory is full of high-quality products coming straight from the top US suppliers including LiftMaster, Genie, Linear, and more!
We treat every appointment the same, whether it's a small repair or a complicated door replacement. All you need to do is give us a call today and enjoy a professional service like no other!
Answers To Common Questions
Garage door not opening. Why?
Automatic overhead garage doors are complicated systems, and there are multiple failure points that can result in one not being able to open. There could be a problem with your opener's power supply, circuit boards, or motor. Even drive disconnection, or a jam in the door mechanism, among other possibilities, can prevent the garage door opening. In any case, you'd best call for professional help to get this resolved. Many garage door problems are dangerous to DIY, so they're best left to a professional repairman.
Garage door is not closing. Why?
If a garage door can open but not close, the problem is usually related to the safety sensors positioned on either side of the door just above ground level. If the lights on the sensors are blinking, that means they need cleaning or realignment. If they aren't, the problem could pertain to the opener, control systems, or springs, or be caused by a mechanical jam in the door tracks or rollers. Unless the problem can be resolved by simply getting something out of the door's way, your safest bet is to let experts repair the garage door.
How much does a garage door weigh?
Since they come in all different sizes, thicknesses, and materials, overhead garage doors vary greatly in weight. The smallest and thinnest single-car garage doors made of aluminum or lightweight synthetic materials can be as light aa eighty-five pounds. A 16 foot wide insulated hardwood overhead door can easily weigh as much as five or six hundred pounds. The material makes a difference, as does the level of insulation and how bolstered and reinforced the garage door is. Naturally, those who want better security will have a set of heavier door panels.
We also offer the following:

Automatic Door Opener Repair

Garage Door Track Maintenance

Overhead Door Repair & Installation

Residential Garage Door Replacement