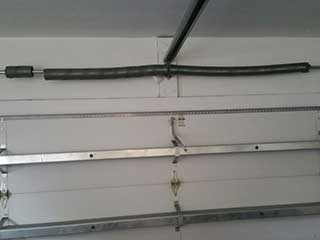 Your garage door springs act as the muscle responsible for lifting the door up off the ground when you need it, which is what makes them so vital. Our services discussed below will help keep your door in the best shape possible.
What Is The Difference Between Types?
There are two main kinds of garage door springs that may be found in your garage. The first and less common one in residential use is called extension spring. These springs work by stretching to their limit to store the energy used to lift your door. The other, called torsion, does this by instead twisting up tightly. While they both work in the same way, extension springs often require more maintenance in the long run compared to torsion. They wear down faster and break sooner than torsion springs, which requires them to be replaced more frequently. We can tend to either kind, however, so there's no need to worry!
Spring Replacement & Adjustment
Thanks to how vital the springs are in your door being able to function, it tends to be fairly obvious if there's a problem with one or more of them. If your door struggles to work, or doesn't at all, this tends to indicate that the springs are at fault. If either type breaks, you may also have heard a bang coming from your garage. In either case, our experts will be able to get them replaced right away, as well as check the other parts to ensure they're in good shape. Springs may also need to be adjusted now and then to get things working more smoothly, or to fix the door's balance.
How Can I Know There's Something Wrong With My Springs?
There are so many signs and indications, but some are more common than others. If your door is moving slower or faster than usual, or hanging to one side, the spring's tension needs to be adjusted. If, however, the door does not move at all, even after you've changed to manual mode by disconnecting the opener, then it is highly likely than one of the springs broke and has to be replaced.
Quick, Reliable, & At Your Service
Whether it's an emergency with a broken spring and a door that won't budge, or just an adjustment, our professionals will be out as soon as possible and take care of it. Allowing your garage door to continue to function with broken components will cause even more damage! Instead, just call Garage Door Repair Monroe today.
Answers To Common Questions
What should I do if my garage door spring breaks?
A broken garage door spring is a major inconvenience and can also be quite dangerous. If you're looking at a such a problem, call a professional garage door repair technician to replace it safely. Never try to replace a broken spring yourself. Springs are under a lot of tension and one slip up can result in serious injury. The high amount of tension such devices are under makes them likely to snap and whip around when they break. This is one job you should always leave to the experts.
How long do garage door springs last?
Like many moving metal parts of your average garage door, the springs will wear out over time. Most springs tend to last up five to ten years. If you're prepared to invest a little more for better quality springs, you may not need to have them replaced for up to five extra years, especially if you see to it that they're regularly lubricated and that their tension is adjusted routinely.
Let our team take care of it for you!

Garage Door Weather Stripping

24 Hour Garage Door Service

Garage Door Cable Replacement

Roll Up Garage Door Services